Gerald and Lawrence Durrell brought the beauty of Corfu to the world through their writing. My Family And Other Animals by Gerald, reached a mass readership and its various TV and film adaptations have also delighted viewers. Lawrence Durrell's memoir about Corfu, Prospero's Cell, was very popular in its day and is now considered a literary gem. Both authors offered readers a glimpse of halcyon days on the verdant island of Corfu. Today travelers can still experience this beauty by exploring the island and its unique coastline.
Lawrence Durrell and his wife, Nancy, lived in the White House, in Kalami in the North East of Corfu, between the years of 1935 and 1939. Lawrence described the White House as being "set like a dice on a rock already venerable with the scars of wind and water". Our boating trip started and ended at this very house, now an upscale restaurant and guest house.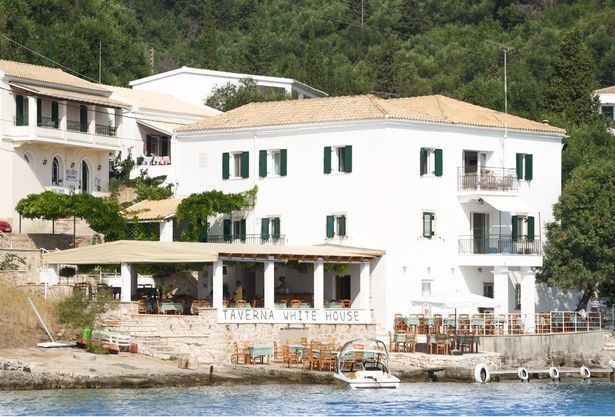 Our boating trip around Kalami took place in September, which is a wonderful month for boating in Corfu. The real heat of the summer is over, but the days are still long and sunny. The sea is warm, flat and calm, with water as clear as glass. On this boating trip, we wanted to see Kalami and the White House from the water, then the tiny waterfront chapel of St Arsenios where Nancy and Lawrence used to swim. The whole North East coastline of Corfu is beautiful – weather-beaten rocks topped with olives and pines dip down into crystal clear waters. There are many coves and beaches to explore – some with no development at all; others with waterfront tavernas and beach chairs.
There is no better way to explore this coast than in a small boat where you can hug the coastline and nip in and out of tiny secret coves. Turn off the motor and it's deliciously quiet; with just the sound of the water lapping against the bow. You travel at your own pace and leisure in order to absorb all of the natural beauty around you; there is an abundance of it in this part of Corfu.
After pulling away from the jetty in our hire boat, we turned to look back at the small resort of Kalami with the White House, bold and bright, on the left of the bay. It sits above the rocks where visiting friend and author; Henry Miller swam naked with Lawrence and Nancy. Apparently, disapproving local boys would throw stones down at them!
We sailed across Kalami Bay heading north and around another rocky headland, stopping off for a snorkel around the rocks, before sailing on again. At this point, you suddenly become aware of a strange white building rising directly out of the water. It has open arches of a vaulted cellar which are lapped by the waves. This imposing and picturesque house in Kouloura Bay was originally built as a fortress by the Venetians. It was after visiting this impressive house and having tea with a lady called Madame Gennatas that Lawrence and Nancy fell in love with the North East area of Corfu. It's easy to see why they fell so deeply, as Kouloura Bay is staggeringly beautiful. We sailed into the curved, man-made harbour (Kouloura means ring in Greek) in front of the house and bobbed around with the fishing and sailing boats. Then we gently motored into the left-hand side of the bay which is lined with tall eucalyptus trees, and stopped for a while at a pebbled beach is called Xouxoulio. A tumbledown olive press is hidden behind the trees and a lovely walking track runs up through the headland here to other coves and bays.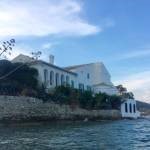 The next bay along on our boating adventure, continuing north, is Kerasia. Long and less rugged than the coast line we had just experienced, it has a few beach houses and a taverna. There are plenty of sun loungers for stretching out and sun bathing on. We turned back here and retraced our journey towards Kalami. The water we skimmed across ranged from deep green to bright turquoise. Along with the green of the ilex and olive trees bending above the grey, folded rock it was a genuine pleasure to experience.
We were heading to Agni Bay to stop for a cool drink, this is where Lawrence and Nancy sometimes liked to catch the caique (local wooden boat) to Corfu Town, as to travel by boat was easier than negotiating the arduous tracks and roads inland. The pretty cove is always busy in the summer with day boats and yachts dropping in for lunch at the many beach front tavernas.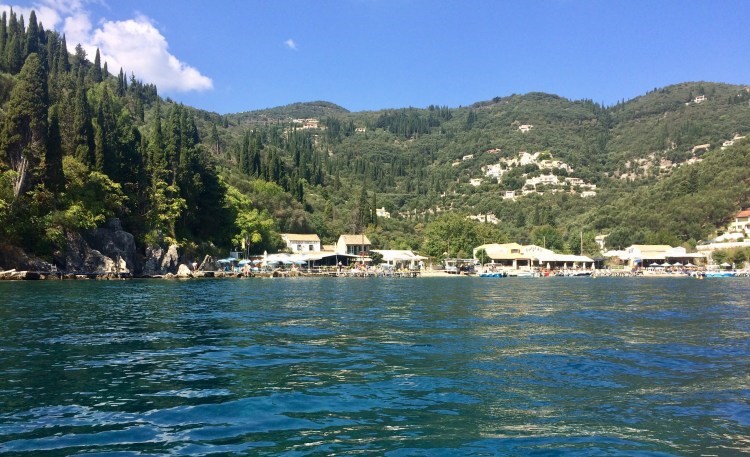 From Agni Bay we sailed away from the crowded beach and jetties, to find our next destination, St Arsenios' Chapel, which is beyond Agni Bay to the south. It is a tiny terracotta-roofed building perched on the cliffs. The rock face here is crumpled into cream-coloured curves and waves, folded by tectonic forces. It is sharp and jagged rock to climb, but we always clamber up to peep into the chapel. Inside the walls are blackened with smoke from candles lit in front of icons of St Arsenios. There is a visitor book with messages from visitors who have come to say a prayer.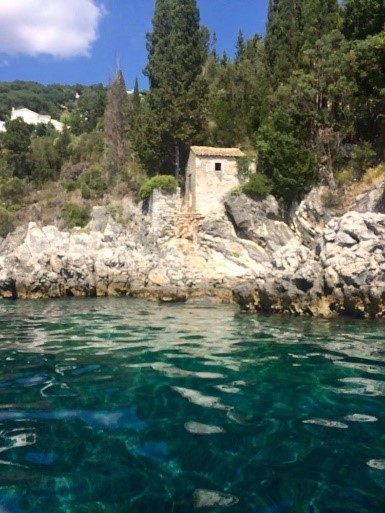 Lawrence and Nancy would sunbathe at this very spot and dive from the rocks. In Prospero's Cell, Lawrence writes "…dropping cherries into the pool – clear down two fathoms to the sandy floor where they loom like drops of blood. N. has been going in for them like an otter and bringing them up in her lips." The chapel and its surroundings seem to have barely changed from Lawrence's descriptions and it is easy to allow the mind to transport you back over the years.
Tour boats stop off here regularly in the Summer months as do many day tripper boats, but bide your time and you will get quiet moments here too. There is also a beautiful blue cave that has a small beach hidden inside to explore. Snorkelling is a must and we saw a huge shoal of small, silver fish hanging around the rocks – tomorrow's gavros….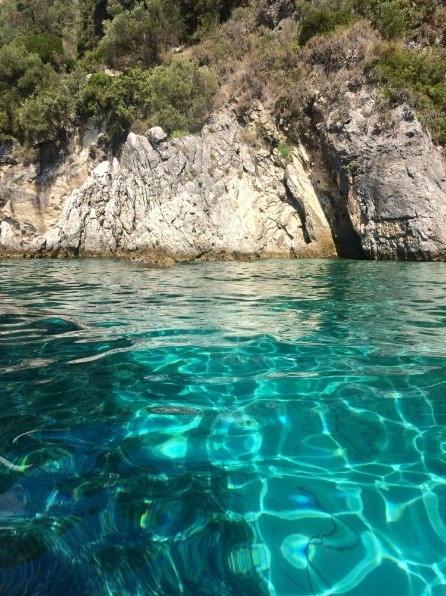 Sailing back into Kalami Bay, we moor up and have a cool drink on the rocks of The White House. Looking back over this boating trip, with the beauty of the scenery and the antique quaintness of the chapel, it's easy to feel you have experienced a genuine touch of Corfu as Lawrence and Gerald Durrell would have experienced back in the 1930's.
By sheer coincidence on our boating adventure, we happened to see ITV's Mrs Durrell, AKA Keely Hawes, at a beach restaurant in Agni, as filming was happening at the time. Other TV's The Durrells facts are that the chapel and the rock beneath was where Margo sunbathed and was shouted at by an angry priest. Also in Series 4, Kalami Bay was substituted by beautiful Kouloura Bay, and the family sail and drive there.
A variety of boats can be hired from The White House Experience Boat Hire. This trip would take a few hours at a leisurely pace. Enjoy!
Written by Jo Cullen, 2019